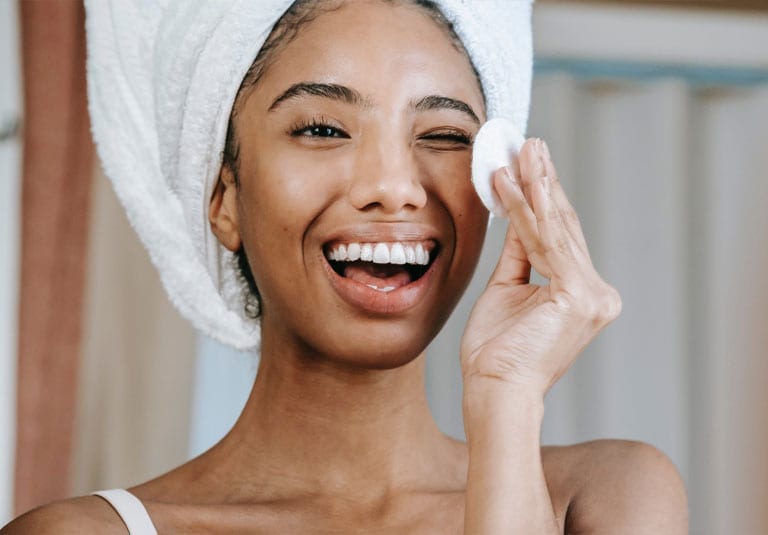 Aesthetic clinics are all about enhancing your looks, often promoting their treatments by emphasising how they can transform your appearance to make you look and feel your very best.
The Bloom Clinic is different.
With a holistic approach, this aesthetic and wellness centre looks at you from a physical, emotional and lifestyle perspective in order to improve your life and create a version of you that is truly fabulous – from the inside and out.
So, on the launch of our website in January 2021, we want to spread the word that a new kind of clinic is in town; one where we not only enhance your looks, we change mindsets and lifestyles too.
In this blog, we want to discuss how our daily choices can contribute to possessing amazing skin, highlighting that whatever happens on the inside, will show on the outside.
Everyone should know that smoking, stress, eating a poor diet, not getting enough sleep and leading a low activity lifestyle can impact on the health of your body. And as the body's largest organ, this certainly extends to the look and feel of your skin.
Habits including smoking, drinking alcohol and sun exposure can cause premature ageing. These factors can dry out the skin and impact on its ability to replenish itself naturally, as well as helping to speed up the rate at which collagen and elastin break down within the skin's structure – leading to wrinkles and skin laxity.
UV rays can thicken the skin and cause poor elasticity as collagen becomes depleted and skin cells become damaged.
Much as sugar makes us feel good (hence the term sugar rush) and is something that many of us turn to for comfort, it is not one of our skin's best friends. Sugar is an inflammatory substance that causes irritation to the skin. This can aggravate conditions like rosacea, psoriasis and eczema, causing flare-ups, as well as contributing to breakouts of acne.
However, there are some simple things we can do in our daily lives to ensure that our skin looks and feels great. The diet plays a huge role in the health of the skin, so ensuring we eat fruits and vegetables, healthy carbs and proteins will provide the skin with the right nutrients to remain strong and supple, with a good cellular turnover.
Some skin friendly foods include: carrots, apricots (as well as other yellow and orange fruits and veggies), spinach and other dark leafy greens, tomatoes, berries, peas, beans and lentils, fatty fish (salmon, mackerel) and nuts.
As well as eating a healthy balanced diet we need to ensure we drink plenty of water to keep the skin hydrated and prevent it from drying out and becoming flaky. Skin sensitivity can be reduced through less stress and plenty of relaxation (including a good night's sleep!) and you can do this any way you want.
Whether it's in a luxurious bubble bath, going for a run or listening to music, we all have our own ways of switching off, winding down and recharging the batteries.
Many people take up exercise as a way to relieve stress or tension, to keep in shape and to improve the condition of their health. Regular exercise helps to keep the body 'well-oiled', but it can also have great benefits for the skin. When increasing the heart rate, the blood circulates around the body more efficiently, delivering oxygen and nutrients to the skin.
This keeps the skin well-nourished as well as helping to increase collagen production and new skin cells. This in turn will encourage the skin to keep glowing and maintain a more youthful look.
One factor that is very important for looking after your skin is a daily application of sunscreen. Just as beneficial during the winter, a suitable SPF for your individual type and tone will protect your skin from harmful UV rays.
At the Bloom Clinic, Dr Rita Nandi can apply her expert medical and aesthetic knowledge to recommending the right treatment to improve the look and feel of the skin. Whether it be through a facial, chemical peel or medical grade skincare, Dr Nandi's plan can provide you with the incredible skin you seek, this winter.
As an official stockist of AlumierMD, ZO Skin Health and Skinade, regular use of a medical grade skincare product can take the condition and appearance of your skin to the next level. Working with your own skin type and tone, these intense products contain powerful ingredients and are chosen to suit your individual needs.
Designed to strengthen the structure of the skin by boosting hydration, increasing collagen levels and refreshing the skin's surface, a firmer, fuller and brighter complexion can be unveiled. Each individual product has the perfect formula for you and your skin.
To maintain this striking look, you might want to add a healthy daily routine into the equation and The Bloom Clinic has an amazing team of people who are ready and waiting to advise the right plan for you. Our nutrition, exercise and lifestyle specialists can ensure that you, your body and your skin can live a healthier, happier life.
So, by taking a few easy steps to improve your lifestyle you can improve and maintain a fit and lively body and allow your skin to flourish.
The system is simple: a healthy routine + great skincare = fabulous skin. Get in touch with us at The Bloom Clinic to book in a consultation to discuss your skincare needs, we look forward to helping you achieve your perfect skin!
Back to blog